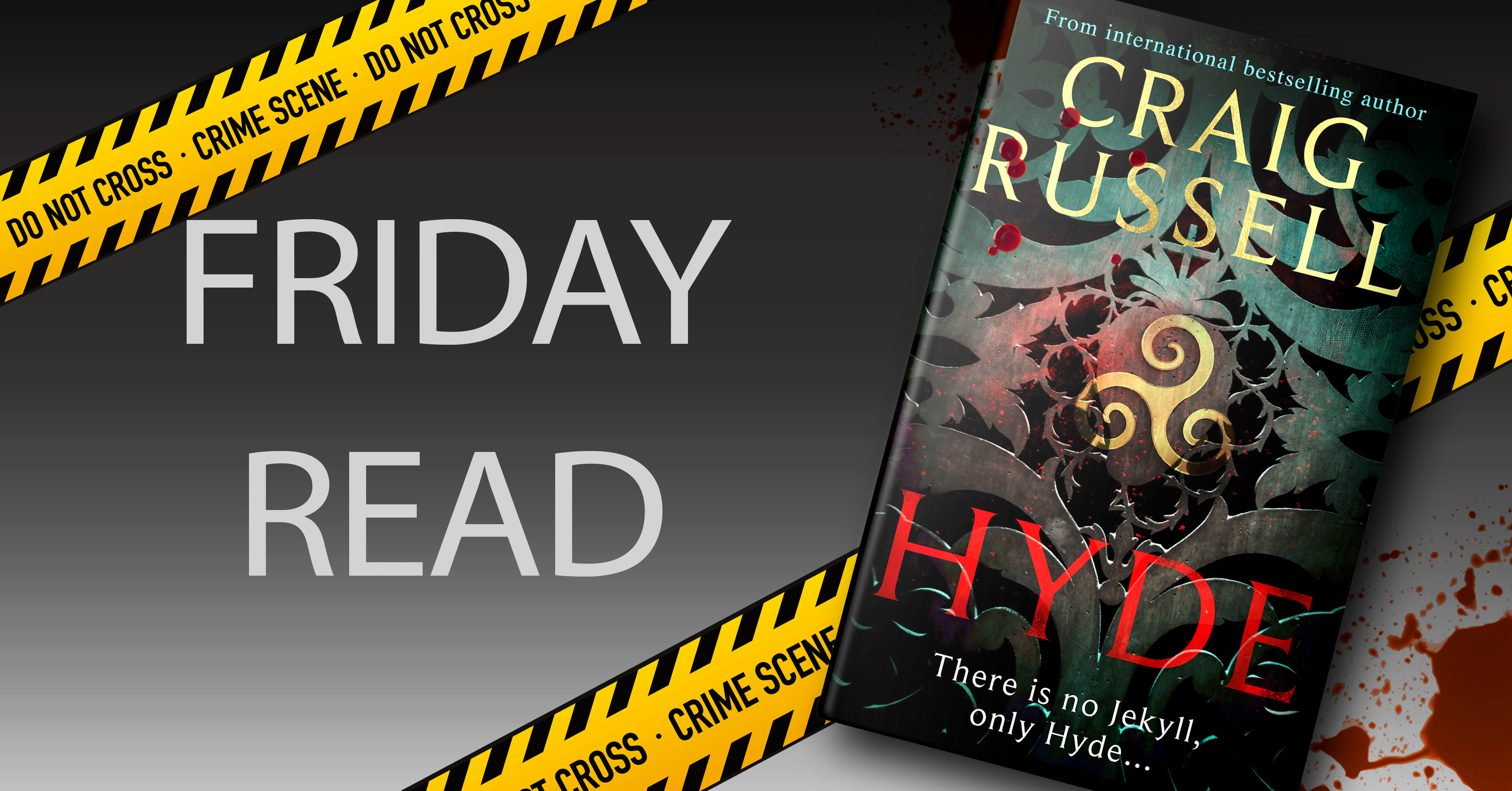 OK, so we featured this at the time of hardback publication earlier on this year but we think it's worth running again, as it's not only us but the judges of this year's McIlvanney prize who obviously rate it as it's made it onto the McIlvanney shortlist – Congratulations, Craig! The winner will be announced next Friday evening as Bloody Scotland kicks off its 2021 hybrid festival.
Following on from his awesome The Devil Aspect, this time Craig takes us pretty much to his home turf – Edinburgh – and a re-imagining of Robert Louis Stevenson's classic tale of horror.
His protagonist is Captain Edward Hyde – a good man, a senior ranking police officer, whose outward appearance both fascinates and repels the people around him. His dark exterior hides an inner secret:  Hyde suffers from a form of epilepsy which takes him into a dreamlike otherworld, which to him is as real as the city of Edinburgh itself. And then the murders start… ritualistic slayings which mirror the ancient Celtic threefold death, and Edward Hyde must find the killer in this world or his otherworld . . . or risk losing his mind.
This is marvellous, engrossing storytelling at its very best, and as well as this, it's also a beautiful love letter to Scotland, its traditions, culture and folklore, and at its very centre lies the beating heart of Edinburgh. No surprise then that we find it on the McIlvanney shortlist. Good luck for next week, Craig!
Krystyna Green
WINNER OF THE 2021 McILVANNEY AWARD

IAN RANKIN'S CHOICE FOR BOTH BEST MYSTERY BOOK OF 2021 (PBS), AND BEST BOOKS OF THE YEAR (NEW STATESMAN)

'Russell writes a pacy, ever-twisting mystery that will keep you turning the pages.' - Ian Rankin

'When it comes to Gothic crime, Craig Russell is peerless. Absolutely stunning.' - M W Craven

From international bestselling author Craig Russell comes a modern Gothic masterpiece.

Edward Hyde has a strange gift - or a curse - he keeps secret from all but his physician. He experiences two realities, one real, the other a dreamworld state brought on by a neurological condition.

When murders in Victorian Edinburgh echo the ancient Celtic threefold death ritual, Captain Edward Hyde hunts for those responsible. In the process he becomes entangled in a web of Celticist occultism and dark scheming by powerful figures. The answers are there to be found, not just in the real world but in the sinister symbolism of Edward Hyde's otherworld.

He must find the killer, or lose his mind.

A dark tale. One that inspires Hyde's friend . . . Robert Louis Stevenson.

Praise for Hyde:

'Intricate...evocative prose enhances a suspenseful and sophisticated plot. This is the rare riff on an influential novel that sticks the landing' Starred Review, Publishers Weekly

'Stephen King meets Robert Louis Stevenson... an imaginative gothic tale guaranteed to send a shiver down your spine the next time you walk a dark Edinburgh night.' - David Hewson, author of The Garden Of Angels

'Russell delivers a brooding, stunningly atmospheric tale set in Stevenson's Edinburgh - multi-layered and intricately plotted, this is a Gothic thriller from the hands of a master.' - Margaret Kirk, author of Shadow Man

'A deliciously dark reimagining of a timeless character and a wonderful recreation of a gothic Edinburgh . . . Another winner for a consummate storyteller.' - Douglas Skelton

'Gloriously diabolical. A terrifying thrill ride through the hidden chasms of the human soul.' - Chris Brookmyre, author of Black Widow

I absolutely adored it. Intense, harrowing and hugely entertaining. Craig Russell conjures the kind of spine-tingling tale that kept me reading through the night. Spectacular. - Chris Whittaker

'The story is a thrilling ride through the murky depths of madness and horror, written with all Craig's trademark skill and style. Definitely five stars from me' James Oswald

'A Gothic masterpiece which will lead you so far into the darkness that you won't know who to trust. Another splendid offering from a writer who is top of his game. ' - Theresa Talbot

'An engaging Gothic thriller full of atmosphere and surprises.' - Irish Independent

Praise for Craig Russell

'A masterclass in suspenseful, character-driven prose fiction. Simply exceptional'
Frank Darabont, writer and director of The Shawshank Redemption and The Green Mile