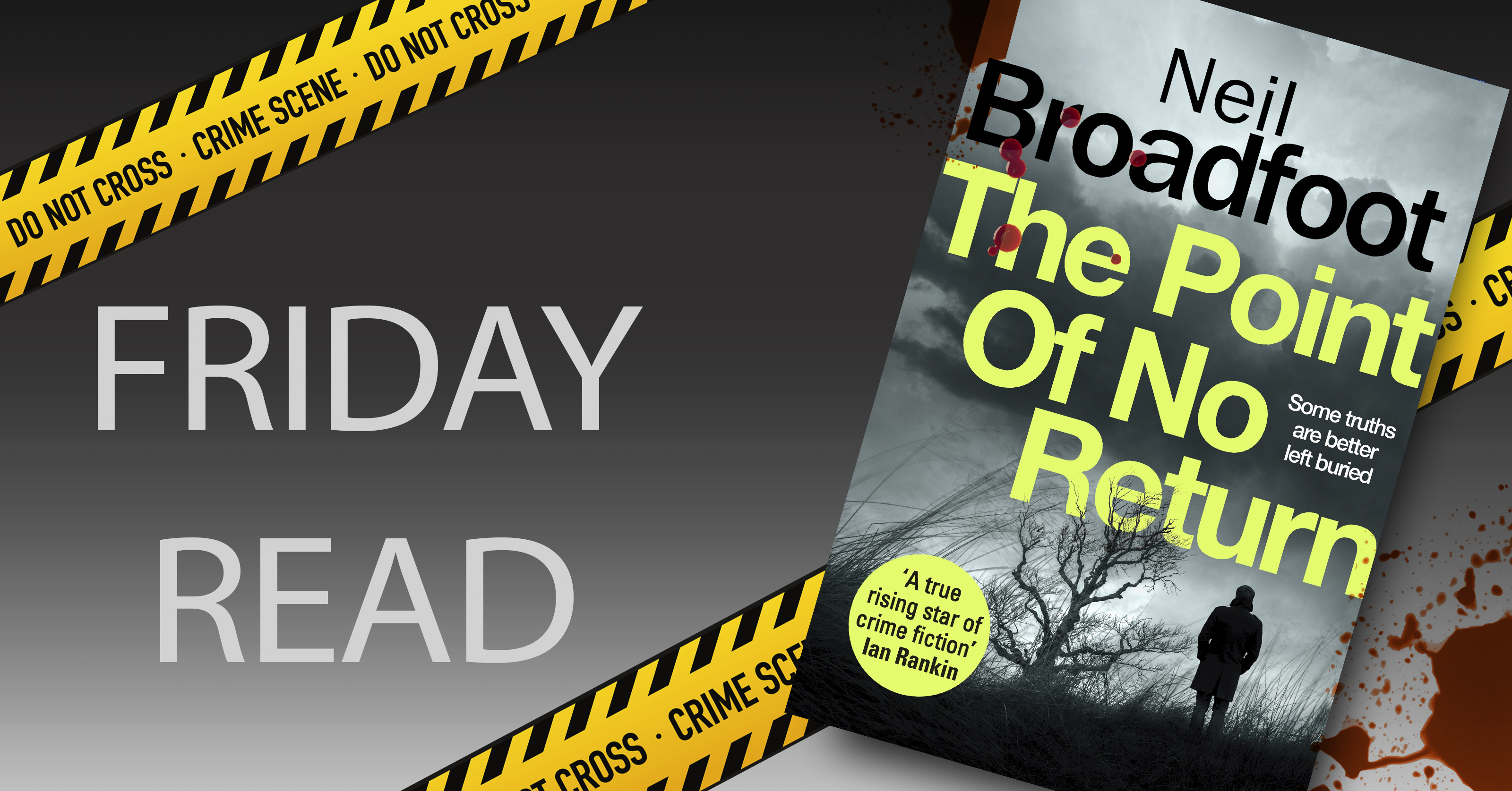 So . . . September is now upon us and we'll all be missing the annual pilgrimage to Stirling to attend the most fun crime fiction festival of them all – Bloody Scotland. But fear not, as in these Covid-ravaged times the festival has moved online from 17th – 20th September… and tickets to the events are free!  So there really is no excuse to miss out.
And if you're still needing a further fix of Stirling then really you should turn your attentions to Neil Broadfoot's third Connor Fraser outing in The Point of No Return. As ever, Connor's adventures are truly Stirling-centric and this latest starts with the release of a killer who years previously had murdered two Stirling university students on campus. He's now been asked to write his autobiography, causing outrage among the local populace, but his PR agency know of a protection expert in Stirling who can keep him safe . . . Enter Connor Fraser. Connor reluctantly agrees to take the job as a favour to a friend but when a body is found, mutilated in the same way the killer's victims were, attention is focused on the released man. But how can he be the murderer when Connor's own security detail gives him an alibi?
If you haven't discovered Neil Broadfoot yet then you really should give him a go; described by Ian Rankin as 'a true rising star of crime fiction', read this and you'll feel as if you haven't missed out at all this year on the Stirling experience! And if you want to see Neil in action at this year's virtual Bloody Scotland, on Sunday 20th September, Neil will be joining a mammoth roster of writers on their Neverending panel, when authors dial in to a rolling discussion about all things crime, with participants passing the baton between Scotland, Norway and the US over the course of four hours. More info here: https://www.eventbrite.co.uk/e/sunday-bloody-scotland-2020-tickets-117541338307
And fingers crossed we'll all be back in the bar of the Golden Lion in 2021.
Krystyna Green
'Tense, fast-moving and bloody. Broadfoot's best yet' Mason Cross

'A true rising star of crime fiction' Ian Rankin

'Beautifully crafted . . . There's no filler, no exposition, just action, dialogue and layering of tension that'll hold you breathless until the very end' Helen Fields

How far would you go to find the truth?

After more than a decade of being in prison for the brutal murder two Stirling University students, Colin Sanderson has been released after his conviction was found to be unsafe.

Returning home to a small village not far from Stirling, Sanderson refuses police protection, even in the face of a death threat. But the PR firm that has scooped him up to sell his story does know of a protection expert in Stirling. They want Connor Fraser.

Connor reluctantly takes the assignment, partly as a favour to DCI Malcolm Ford, who is none too keen to have Sanderson on the loose, particularly as he was involved in the original investigation that saw him imprisoned.

When a body is found, mutilated in the same way as Sanderson's victims were, all eyes fall on the released man. But how can he be the killer when Connor's own security detail gives him an alibi?

As Connor races to uncover the truth, he is forced to confront not only Sanderson's past but his own, and a secret that could change his life forever.