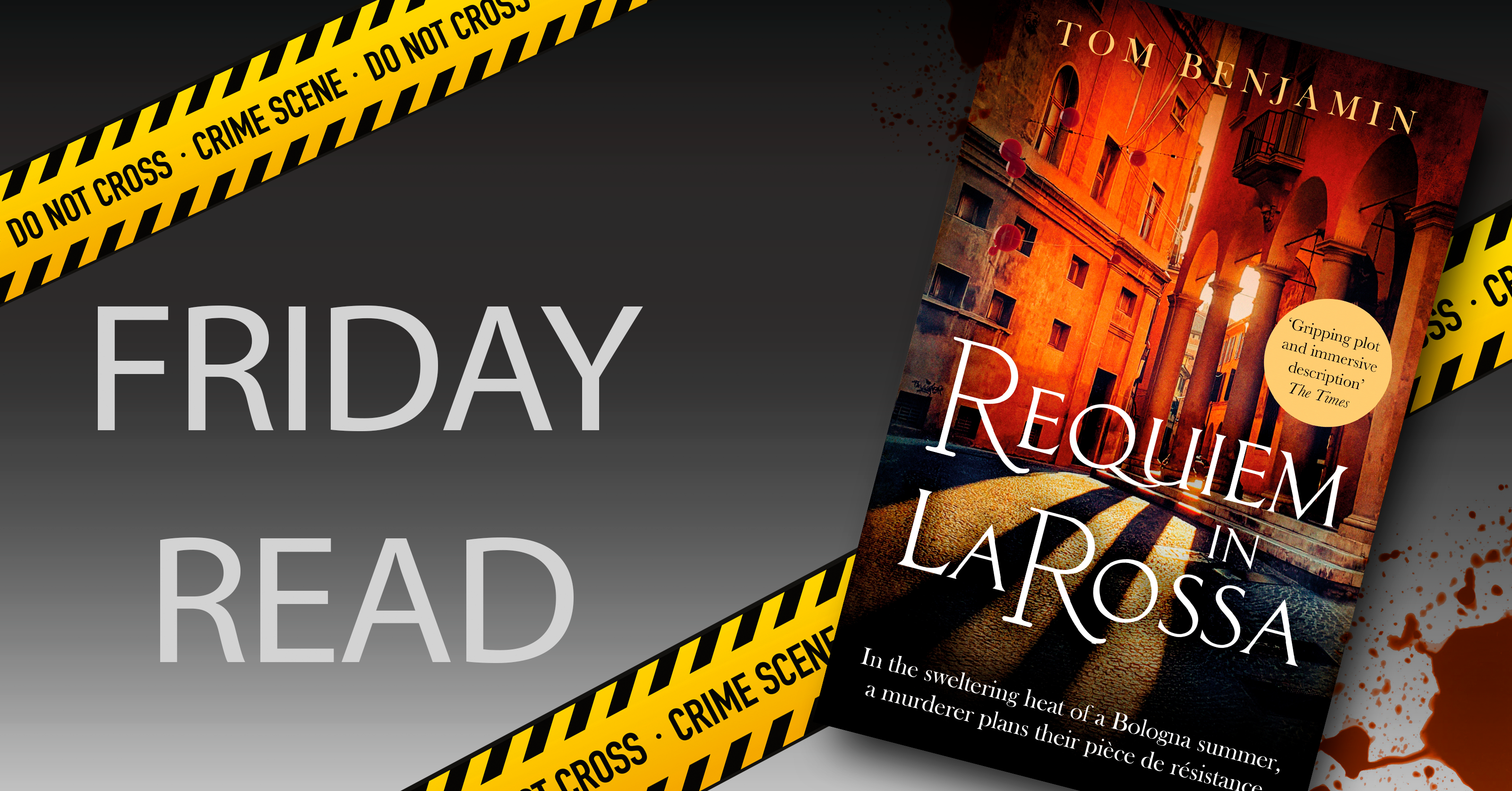 Yesterday was the publication day of Tom Benjamin's third English PI  Daniel Leicester outing, Requiem in La Rossa. Having explored traditional Italian themes in his first two books (anarchy in A Quiet Death in Italy and gastronomy in The Hunting Season), here Tom explores another subject very close to the Italian heart: music.
A case of a mugging-gone-wrong leads Daniel on a trail which begins among Bologna's close-knit classical music community, leading him to suspect there may be a killer at large at the oldest university in the world.  And as Bologna trembles with aftershocks following a recent earthquake, the city begins to give up her secrets…
If you are an avid armchair traveller, or even if you just love a good PI novel set in a memorable location, then look no further than Requiem at La Rossa.  Pick up the book, put your feet up… and get lost among the red porticos and dark alleyways of the historic city of Bologna.
Krystyna Green
'Devoured it. Great characters and brilliant use of the history and architecture of Bologna. His best yet' Trevor Wood

In the sweltering heat of a Bologna summer, a murderer plans their pièce de résistance...

Only in Bologna reads the headline in the Carlino after a professor of music is apparently murdered leaving the opera. But what looks like an open-and-shut case begins to fall apart when English detective Daniel Leicester is tasked with getting the accused man off, and a trail that begins among Bologna's close-knit classical music community leads him to suspect there may be a serial killer at large in the oldest university in the world. And as Bologna trembles with aftershocks following a recent earthquake, the city begins to give up her secrets...

Praise for Requiem in La Rossa

'I absolutely loved this book. Bologna is perfectly captured, the crime plot is fresh and intriguing, and the characterisation remains spot on. I found myself totally immersed and swept through this stunner of a story in 24 hours. Highly, highly recommend' Philippa East

'An atmospheric, intelligent crime novel that is an intricate portrait of the heart of Bologna. Beautiful, gripping, and very clever' Victoria Dowd

'A brilliant, involving crime novel' Louise Hare

'Clever and beautifully written... his best yet' Louise Fein

'I was so hooked on story, I read the whole novel in a couple of days despite trying to make it last as I didn't want it to end' Mystery People

Praise for Tom Benjamin

'The locale is brought to life . . . the plot keeps you guessing' The Times

'A slow-burning, tense and brooding thriller' The Herald Scotland

'Tom Benjamin's debut novel blows the lid off a political cauldron in which Leftist agitators, property moguls, the police and city elders struggle for survival and dominance' Daily Mail

'It's an immensely promising debut, which leaves the reader feeling they really know the city.' Morning Star
'Another great crime novel set in Bologna' Reader Review

'The mystery smolders away nicely and the wrap-up throws some curve balls. Another indulgent offering in this rewarding series.' Reader Review