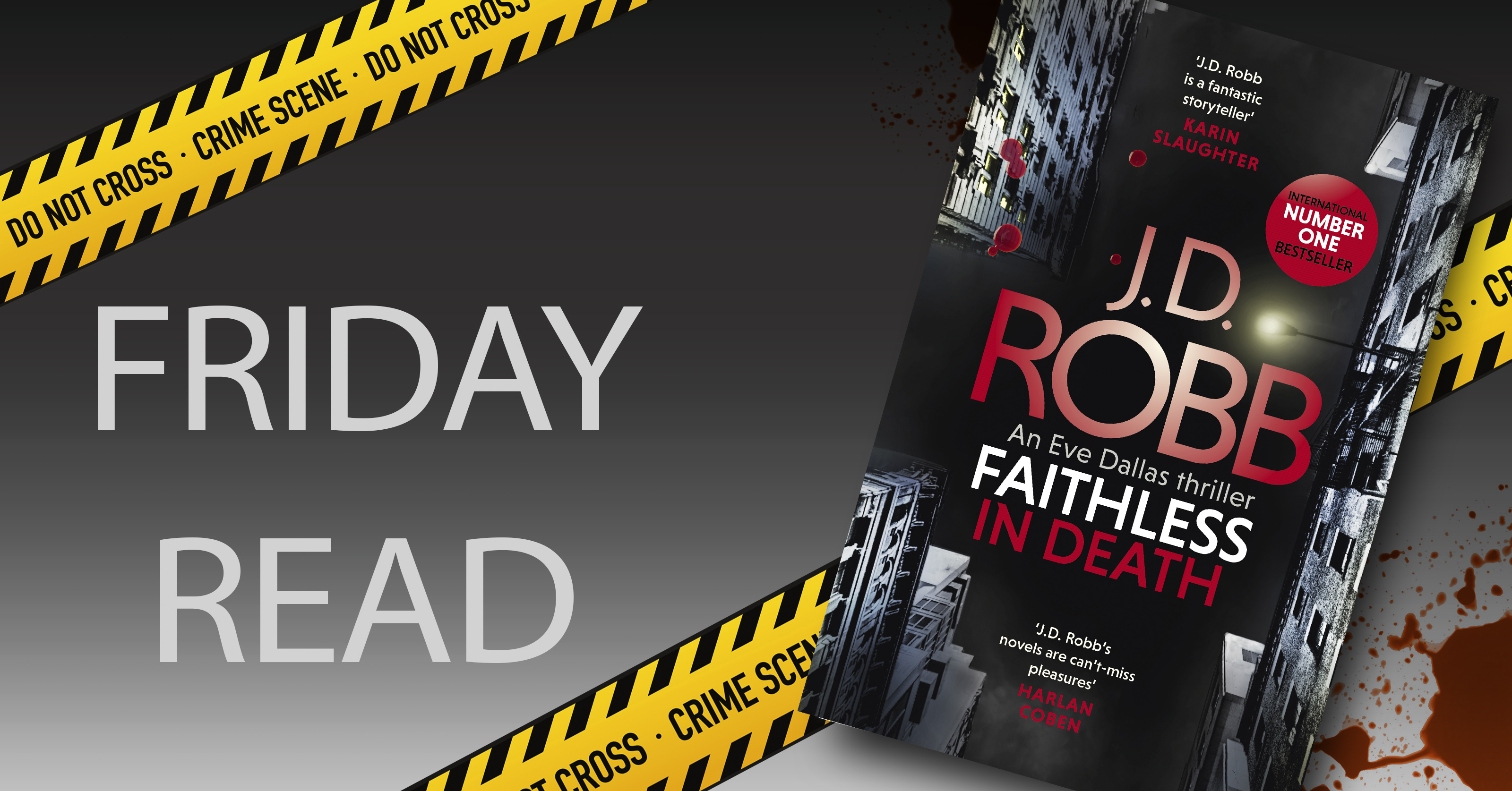 Faithless in Death is the brand new instalment in the bestselling In Death series. If you already know the series then you'll know how good they are but if you haven't then let me introduce you. J.D. Robb's In Death series has sold over 70 million copies worldwide and is a global bestseller, regularly appearing in the charts in the US, UK, Australia and New Zealand. The series stars Lieutenant Eve Dallas  – a New York cop who believes in the valour of protect and serve. And kicks ass doing it.
If you like police procedurals with a brilliant detective, a great supporting cast and wise-cracking dialogue you're gonna love it. As Heat Magazine said: 'If you're a crime fiction fan and haven't discovered them yet, welcome to the very best day of your life'. And don't just take our word for it – Karin Slaughter, Lisa Gardner, Harlan Coben, Kathy Reichs and Stephen King (amongst many others) will tell you the same. If you're worried it's a series, don't be. You can dive right in. Of course I can't promise that you won't want to go back to the beginning and read them all!
Gina Luck
It's a beautiful Spring day in NYC when Lt. Eve Dallas gets an early morning murder call. A talented young sculptor hasn't had such a perfect day in May. Killed by her own hammer, at first it looks like an argument with a jealous partner but it soon becomes clear that there is much more to this case than a lovers' quarrel turned fatal.

Eve finds herself drawn into the dark and dangerous world of a secret order. A world in which white supremacy, misogyny and religious fanaticism are everyday activities. Eve has dealt with some tough cases before but is it too much even for her to take on a wealthy, influential organisation with friends in very high places.....?
'J.D. Robb is a fantastic storyteller who knows how to keep the pages flying by' -#1 International Bestselling Author, Karin Slaughter
'One of my all-time favorite authors hitting a golden moment in one of my all-time favorite series.  J.D. Robb never disappoints!' Lisa Gardner
'If you're a crime fiction fan and haven't discovered them yet, welcome to the very best day of your life' Heat Magazine
'Eve Dallas – tough as nails and still sexy as hell' Stephen King
'J.D. Robb's novels are can't-miss pleasures' Harlan Coben
'Curious corpses, tangled twists and one sizzling sleuth' Kathy Reichs
'Terrific characters, sudden twists … the epitome of popular fiction' Dennis Lehane
'J.D. Robb is one of my favourite authors, and she has created an iconic female cop – a strong, sexy, and death-defying heroine – with the slyest sense of humour in fiction. I love J.D. Robb and Eve Dallas!' Lisa Scottoline
'Sexy and unpredictable, these books are first-rate suspense thrillers with wit, character and heart' Janet Evanovich
'Consistently inventive, entertaining and clever' Publishers Weekly
'Sheer entertainment' Guardian