Returning to Haddley – A town where everyone buries the past…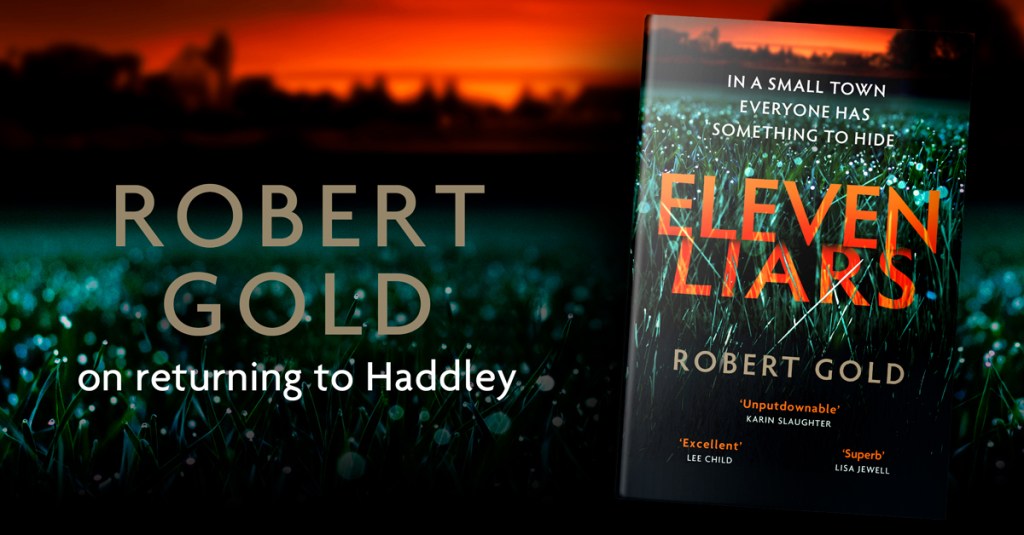 We loved Robert Gold's bestselling debut thriller Twelve Secrets and, ahead of his next book Eleven Liars, we wanted to know what it was like writing a second novel set in the fictional town of Haddley. Over to you, Rob…
Sitting down to write a second novel is an oddly daunting experience. I'm sure every author writes their first novel more in hope rather than in expectation. The idea of anyone reading that first book is something of a pipe dream, even as the story and characters come to life. A second novel is a different experience, one which often begins with your editor asking, "When will it be finished?".
When I sat down to begin writing Eleven Liars, I wanted it to be a story that would grip new readers while offering a degree of familiarity to returning readers of Twelve Secrets. For that reason, I chose to set the story once again in the fictional London suburbs of Haddley and St Marnham. The small town and village, nestled on a bend of the River Thames, create a closeness of community which might not be immediately associated with big city novels.
In Twelve Secrets we met the characters who live around Haddley Common, and the story told of the entangled lives they shared. For Eleven Liars, I realised I could broaden out the community, allowing the reader to see different parts of the Haddley, while still maintaining the claustrophobic sense of fiercely guarded secrets.
In this new book, we see the return of leading characters Ben Harper and Dani Cash, with the story allowing the reader deeper inside their lives. By introducing new areas of the town, such as the centuries old church standing on the riverbank and the terraced homes built on Haddley Hill, I was also able to bring in new characters and new lives, each one embedded in the darkest parts of Haddley's past. I loved exploring and imagining new parts of the town and meeting characters who had made Haddley their home for decades.
The reader response to Twelve Secrets has been amazing, and way beyond anything I had ever imagined possible. I hope all of those readers who do return to Haddley and St Marnham find something strangely familiar, while discovering a story that is both new and full of unexpected turns.
Pre-order your copy of Eleven Liars now.
HARLAN COBEN MEETS HAPPY VALLEY IN THIS ROLLERCOASTER NEW THRILLER FROM THE SUNDAY TIMES BESTSELLING AUTHOR

***Whether you're already a fan of TWELVE SECRETS or whether you're discovering Robert Gold for the first time, ELEVEN LIARS will have you glued to the pages***

Already excited for more Ben Harper? TEN SECONDS is out in 2024. Pre-order now and be the first to read it

'A plot full of shocking twists where every character leads you in a different direction. I loved it!' KARIN SLAUGHTER

PRAISE FOR ROBERT GOLD
'Superb' LISA JEWELL
'This is what every other thriller aspires to be' Reader Review
'Utterly absorbing' SHARI LAPENA
'Excellent' LEE CHILD
'My new favourite author' Read Review
'One of a kind' JAMES PATTERSON
___________________

Journalist Ben Harper is on his way home when he sees the flames in the churchyard. The derelict community centre is on fire. And somebody is trapped inside.

With Ben's help the person escapes, only to flee the scene before they can be identified. Now the small town of Haddley is abuzz with rumours. Was this an accident, or arson?

Then a skeleton is found in the burnt-out foundations.

And when the identity of the victim is revealed, Ben is confronted with a crime that is terrifyingly close to home. As he uncovers a web of deceit and destruction that goes back decades, Ben quickly learns that in this small town, everybody has something to hide.
A major new voice. A thriller everyone is raving about:


THE SUNDAY TIMES TOP 10 BESTSELLER
THE RICHARD AND JUDY BOOK CLUB PICK 2
***LOOKING FOR MORE BEN HARPER THRILLERS? ELEVEN LIARS IS OUT NOW AND TEN SECONDS IS AVAILABLE TO PRE-ORDER***
'Twelve stars'
LISA JEWELL
'Cliffhangers and revelations galore'
THE TIMES
'This book will take over all your free time'
Reader Review
'Utterly absorbing'
SHARI LAPENA
'A fine debut'
THE SUNDAY TIMES (Books of the year)
'Unputdownable'
KARIN SLAUGHTER
'Books this good are very rare'
Reader Review
'Excellent'
LEE CHILD
'The next massive thriller'
Reader Review
'One of a kind'
JAMES PATTERSON
'This is what every other thriller aspires to be'
Reader Review

___________
A SMALL TOWN. A SHOCKING CRIME.
YOU'LL SUSPECT EVERY CHARACTER. BUT YOU'LL NEVER GUESS THE ENDING.
Ben Harper's life changed for ever the day his older brother Nick was murdered by two classmates. It was a crime that shocked the nation and catapulted Ben's family and their idyllic hometown, Haddley, into the spotlight.
Twenty years on, Ben is one of the best investigative journalists in the country and settled back in Haddley, thanks to the support of its close-knit community. But then a fresh murder case shines new light on his brother's death and throws suspicion on those closest to him.
Ben is about to discover that in Haddley no one is as they seem. Everyone has something to hide.
And
someone
will do anything to keep the truth buried . . .
___________

'
So clever'
M.W. CRAVEN
'OMG. An absolute 5-star read'
Reader Review
'Totally gripping'
SUSAN LEWIS
'Impossible to part with until the very last page'
Reader Review
'Absolutely addictive'
GILLY MACMILLAN
'I was seriously hooked'
Reader Review
'Couldn't see it coming'
NELL PATTISON
'Such a dream of a thriller'
Reader Review
'Utterly gripping'
VANESSA SAVAGE
'A fantastic plot-twisting debut'
CAMERON WARD