Q & A with Italian authors Donato Carrisi and Maurizio de Giovanni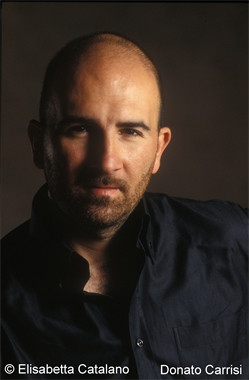 Carissi is the internationally bestselling author of The Whisperer, The Lost Girls of Rome and The Vanished Ones; and de Giovanni is a major bestseller in Italy with his 1930s Inspector Ricciardi series and his contemporary Inspector Lojacono series, the first book in which is The Crocodile.
Both of you have enjoyed great success with your novels at home in Italy and abroad – what is it that makes readers feel such enduring love for the thriller or crime novel?
Donato:People want to get in touch with their dark side. Thrillers are a mirror for the soul. When you meet a monster, in life or in a book, you immediately think how different you are from him. Then you listen to him, and discover how much he is like you . . . The fascination of evil is a secret voice that attracts us. If we ignore the monster within us, sooner or later he will find a way to come out. My monster lives in what I write. How about yours?
Maurizio: In my opinion, the thriller novel is the social novel of our times: it's the genre which, more than any other, delves into the values of our complex everyday reality, describing our cities, the interactions and relationships between people in our world which communicates in millions of ways but no longer talks. It delves into the values of an existence which chooses to conceal the madness in ourselves and in our homes behind the indifferent walls of an apparent normality. The fear we all feel lies in the awareness of living surrounded by a high wall of a silence which all the same declares itself in a silent scream.
What inspired you to write crime thrillers? Where do you find inspiration for your storylines, in real life events or from pure imagination?
Donato:I met a child serial killer for the final project of my university degree and I wrote about him. During our meetings, he would talk calmly about the crimes he had committed. I should have left the room, but I just sat down and listened, as did all the others who were present. I asked myself why I had not reacted and a doubt came up that maybe that person was a bit like me. In the end, I realised that it was my dark side answering to a mysterious call of darkness. I believe this is natural, because it makes us understand that we can control our evil side. From that day on, I understood that there aren't people who are exclusively good or evil, and whoever says otherwise is dangerous.
Maurizio: Every writer has his stories. I don't believe it's possible to choose deliberately which genre to write in, what tone to give one's own novels. Like Donato, I think that we thriller writers are, fundamentally, the people who feel fear most acutely; who recognise the subtle thread of madness running through many of the events that fill up the news pages. Rather than from a single event, we weave our stories from the atmosphere, the pulse of terror that beats in our everyday external reality.
For you, who is the most interesting character to write, the criminal or the detective (or the victims)? Do literary detectives and criminologists need to have flaws and failings?
Donato:In my books there aren't good and evil characters, all of them are damned in some way or another. But the real protagonist of my stories is never seen, never speaks, he is only perceived. He is evil. His voice is fear. I understand the story works when I find the right fear to talk about. We don't need a monster running after us, as in a horror movie. In my thrillers, fear is already inside the reader, I simply need to evoke it.
Maurizio: The detective character is a vehicle: he runs through the story, stumbling in the shadows of the lucid madness that has propelled the murderer to carry out his act. He traces back the twisted flow of an initially positive feeling or passion that has, over time, degenerated, become corroded and poisoned. It's definitely more interesting to explore the story of the perpetrator and the perverse relationship that he has had with his victim. And how everything changes in the context of the criminal act, as if the perversion of the crime had polluted everything it touches.
In The Whisperer and The Crocodile, the victims are young people – was it important to dramatise innocence versus evil?
Donato:Innocence is the key. The more the victim is innocent, the more we will feel close to him or her, perceiving their death as a terrible injustice. When someone young dies, we suddenly become a good person. In the face of senseless evil we discover our true nature, the type of person we are. I want the reader to become angry, to be shocked, to feel pain for the victims and, in the end, to feel better than all the evil I have told him about.
Maurizio: Perhaps it's almost always the innocents, the weak, who pay the highest price: not only the young, but the old, women too; those who have the least means of defending themselves, of understanding immediately what is going on around them and putting up their barriers against it. Our society, in renouncing the proper defence of childhood and young people, renounces hope and renounces its own future. Writing about crimes against children and youths – inevitably exerting a very heavy toll in terms of the author's emotional involvement in the story – entails a denouncement of the deepest abyss in our society.
What role does the setting – the city or landscape – play in your novels?
Donato:In my books the city may not have a name, and may become a labyrinth which you enter upon reading the first word and exit upon reading the last. Or it can be a real place, such as Rome: but then it must appear in a way no one has ever seen it. The place is also a character. The greatest compliment I received from a reader was 'your books are in 3D'. It is important for me that readers immerse themselves in the story and, if I describe Rome, I want them to be there while everything happens.
Maurizio: In my case the city, Naples, plays a fundamental role in my narratives: it's a highly complex urban landscape in which diverse and disparate worlds rub shoulders and clash on the same patch of ground in an eternal and merciless conflict. Nevertheless, The Crocodile is unique among my novels: this story could take place in any metropolitan Western setting, because it deals with the brick wall of indifference that protects the criminal and isolates the detective who's on his tail. It speaks of the invisible, anonymous characters who populate our streets and who can do whatever they want because they are shielded by a grey fog of anonymity, which allows them to blend perfectly into the squalid panorama of our long streets and vast squares or to lose themselves in the underground spaces of our cities.
Apart from the obviously different setting, are there any qualities that mark what's often called 'Nordic noir' out as different from southern European crime fiction? Are there qualities that mark out Italian crime fiction in particular?
Donato:I have the feeling we are moving towards a European thriller, which in a few years will have many flavours, just like ice cream. Because this genre is also the most popular one, I believe that it will contribute more than any other to the unification of European culture, making the habits or the geography – not only the physical geography but also the emotional, the psychogeography – of one country or another known to the wider public.
Maurizio: In my view, the coldness, the extreme violence, and the contrast between a social life that is apparently organised down to the last detail and the insanity of the individual, all of which are characteristic of Scandinavian thrillers, can be woven into a warmer, more agonising and involved, more emotionally lively style like the Latin one. They are different approaches to a reality whose common thread is the nature of our communication. That said, I think that our way of telling crime stories is more polyphonic, that our voices are more distinctive, less homologous. Italian writers, for example, are influenced by an urban reality that is profoundly different from that of Scandinavian writers, and as a result their stories appear more peculiar, more singular.
Which other crime writers do you admire or consider influential?
Donato:Among my Italian colleagues I am very fond of Maurizio De Giovanni. I loved Stieg Larsson and his slow, hypnotic thrillers. In my view Stephen King is capable of making us believe anything, such is the power of persuasion in his writing. But the absolute master is Ken Follett: you don't read a Follett Book, you become one.
Maurizio: In addition to Donato, of whose work I never miss a word, I'm a fan of a great many Italian thriller writers: Massimo Carlotto, Bruno Morchio, Enrico Pandiani, Marco Malvaldi and, naturally, the master, Andrea Camilleri. All of these, among numerous others, represent a new wave of storytelling that will leave its mark on Italian literature for years to come.
The Crocodile and The Vanished Ones are both available to buy now – find out more about each by clicking on the titles above.