Desert Island Crime with Craig Russell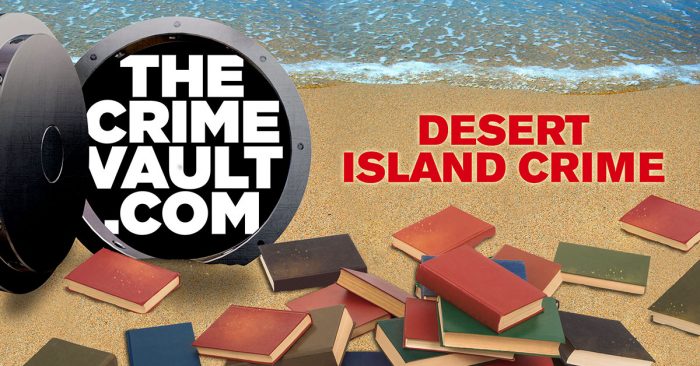 Welcome to Desert Island Crime, where each week we ask a bestselling author: If you were stranded on a desert island and had to choose 8 books to take with you.
What would you pick and why?
This week, we ask Craig Russell, author of the thrilling The Devil Aspect, to reveal his top picks.
Over to you Craig:
The 39 Steps, John Buchan
The definitive pursuit thriller, I read this again for the umpteenth time just a few months ago.  Tore through it in a day and a half.
Figures in a Landscape, Barry England
Superb thriller and adventure story—and another pursuit thriller—that was a finalist for the inaugural Booker Prize.  One of the books that convinced me to become a writer.
Rebecca, Daphne du Maurier
Or just about anything by du Maurier. Beautiful prose style combined with the darkest tales.  Rebecca is the definitive gothic, psychological novel of doubt and uncertainty.  Much imitated, never surpassed.
1984, George Orwell
Helped shape my political consciousness.  And scared the whatsname out of me as a teenager.
Rosemary's Baby, Ira Levin
Ultimate 'nothing-is-what-it-seems-or-maybe-it-is' psychological novel.  Infinitely better than the movie.  As you make your way through this classic, you're never sure of the ground beneath your feet.
A Kiss Before Dying, Ira Levin
Perfect description of a psychopath.  Levin's ability to mess with your mind is unsurpassed. No spoilers here, but halfway through this book you realize the author has been playing you all along.
Psycho, Robert Bloch
Robert Bloch, like Ira Levin, was a master craftsman.  Psycho is quite simply perfectly constructed gothic suspense.
Frankenstein, Mary Shelley
An ageless classic that is remarkably easy to read.  Has a special significance for me because Mary Shelley was inspired by one of my favourite spooky places in Prague.
'A masterclass in suspenseful, character-driven prose fiction. Simply exceptional'
Frank Darabont, writer and director of The Shawshank Redemption and The Green Mile

'The best twist I have ever read' (Michael Ridpath, author of Traitor's Gate)

'Breathtaking'
(Daily Mail)

'Wildly entertaining . . . truly frightening'
(New York Times)
_____________

How do you find a killer when you're surrounded by madness?

1935. As Europe prepares itself for a calamitous war, six homicidal lunatics - the so-called 'Devil's Six' - are confined in a remote castle asylum in rural Czechoslovakia. Each patient has their own dark story to tell and Dr Viktor Kosárek, a young psychiatrist using revolutionary techniques, is tasked with unlocking their murderous secrets.

At the same time, a terrifying killer known as 'Leather Apron' is butchering victims across Prague. Successfully eluding capture, it would seem his depraved crimes are committed by the Devil himself. Maybe they are... and what links him with the insane inmates of the Castle of the Eagles?

Only the Devil knows. And it is up to Viktor to find out.
_____________

'Deep, dark, and twisty . . . a gripping masterpiece of a thriller!' Alex Grecian, New York Times bestselling author of The Yard

'Elegant, edgy, ingenious' A. J. Finn, New York Times bestselling author of The Woman in the Window

'Drags you into its dark world kicking and screaming . . . gets under your skin slowly, then goes deep, like the tip of a butcher knife' New York Times

'Sensational . . . twists are jaw-dropping . . . a mind-blowing story line that will appeal to fans of Caleb Carr and Thomas Harris' Publishers Weekly

' A thrilling, twisting trip through the darkest corridors of the human mind' Daniel H. Wilson, New York Times bestselling author of Robopocalypse

'A tour de force: a clever and visceral thriller' Lincoln Child, New York Times bestselling author

'Dark, stylish and packed with jaw-dropping twists . . . an astonishing piece of work' M. W. Craven, author of The Puppet Show

'A superior thriller, at once stylish, absorbing and compulsive' Laura Carlin, author of The Wicked Cometh

'Well-crafted gothic crime . . . smart, atmospheric' Kirkus Reviews

'A Gothic masterpiece in psychological horror and creeping dread ' Neil Broadfoot, author of No Man's Land

'Deliciously authentic and darkly atmospheric' Graham Smith, author of Death in the Lakes