Death of a Green Eyed Monster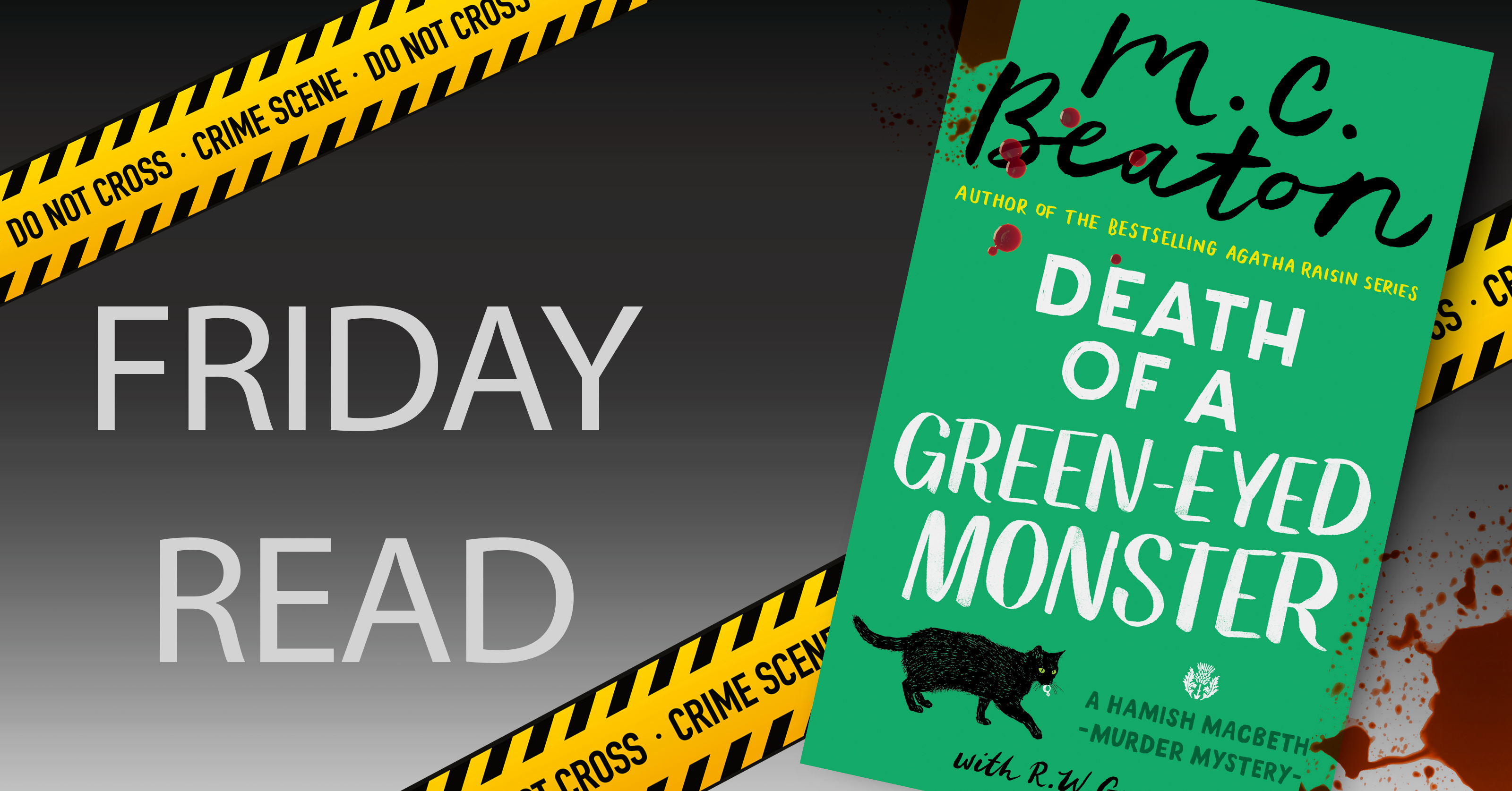 Yesterday, after a four year wait, we published Death of a Green Eyed Monster, the latest Hamish Macbeth mystery from M C Beaton.  Of course, we all know Marion – M C Beaton – passed away at the end of 2019 and it is her friend R W Green who is continuing to write this ever-popular series.  I think I should explain that as Marion's editor for over 25 years, R W Green is someone I know very well – he's my husband.  Towards the end of her life Marion had slowed down and writing two bestselling series a year was proving to be too huge a task for her.  I used to go and visit her regularly down in the Cotswolds, and Rod would come with me as we used to share the driving.  And over the years he got to know Marion really well – they got on splendidly as both were Scottish, both had been journalists on local newspapers as well as Fleet Street – and both were authors (although Marion was possibly a bit more successful than Rod!).  Most importantly, Rod did not have a beard – Marion really wasn't a fan of them.  They got on like a house on fire and gradually I began to feel like a spare part at our gatherings.  Rod volunteered to help Marion with the series, thinking he could do the typing… but instead they sat down, discussed characters, plots, what would happen next and what would the characters would do next… and gradually Rod grew in confidence when handling these two brands – while Marion was delighted by the end results.  And although he has now collaborated on three Agatha Raisins, Death of a Green Eyed Monster is his first Hamish, even though it is the 35th in the series.  Hopefully you'll find it a seamless transition; Hamish staying true to the Hamish of the earlier titles while the book is also being a love letter to the Highlands.  I do hope you enjoy.
And if after a four year wait you think you need reminding of who all the main players in the series are, you can always start with the short e-story Death of a Laird, where you will be reacquainted with Hamish, his friends and his enemies, and all who live in Lochdubh.
Krystyna Green
No one in Lochdubh expects Dorothy to stay for long...

She is, after all, entirely unsuitable. She's an uptown girl, used to a fancy lifestyle in the big city of Glasgow. She'll never fit in. And how is that work-shy rogue Hamish Macbeth supposed to get anything done when his new assistant is such a distraction? The village needs a police sergeant who can get on with his job, not one who's constantly swooning over his pretty young constable.

Yet PC Dorothy McIver quickly shows how determined she is to win over the locals, and she certainly seems to bring out the best in Macbeth. Then comes a brutal murder and the pair find themselves plunged into a tangled web of conspiracy that acquires a sinister strand when the chilling shadow of Glasgow's underworld creeps to the Highlands and the peaceful village of Lochdubh.

Through it all, the bond between Hamish and Dorothy grows ever stronger. Has Hamish Macbeth finally found the love of his life - and can he track down the murderer before any hope he has for a blissful future is destroyed?

'This Hamish Macbeth novel maintains Beaton's distinctive voice and includes the usual village eccentrics, loads of Scottish lore, and the light humor that Beaton fans have loved through the years. . . A definite purchase for all mystery collections' Starred Review, Library Journal

'Unmissable!' Peterborough Telegraph

Praise for the Hamish Macbeth series:

'First rate ... deft social comedy and wonderfully realized atmosphere.' Booklist

'It's always a treat to return to Lochdubh.' New York Times

'Readers will enjoy the quirks and unique qualities of the cast ... Beaton catches the beauty of the area's natural geography and succinctly describes its distinct flavour.' Library Journal

'Befuddled, earnest and utterly endearing, Hamish makes his triumphs sweetly satisfying.' Publishers Weekly