Read an extract from When You Are Mine by Michael Robotham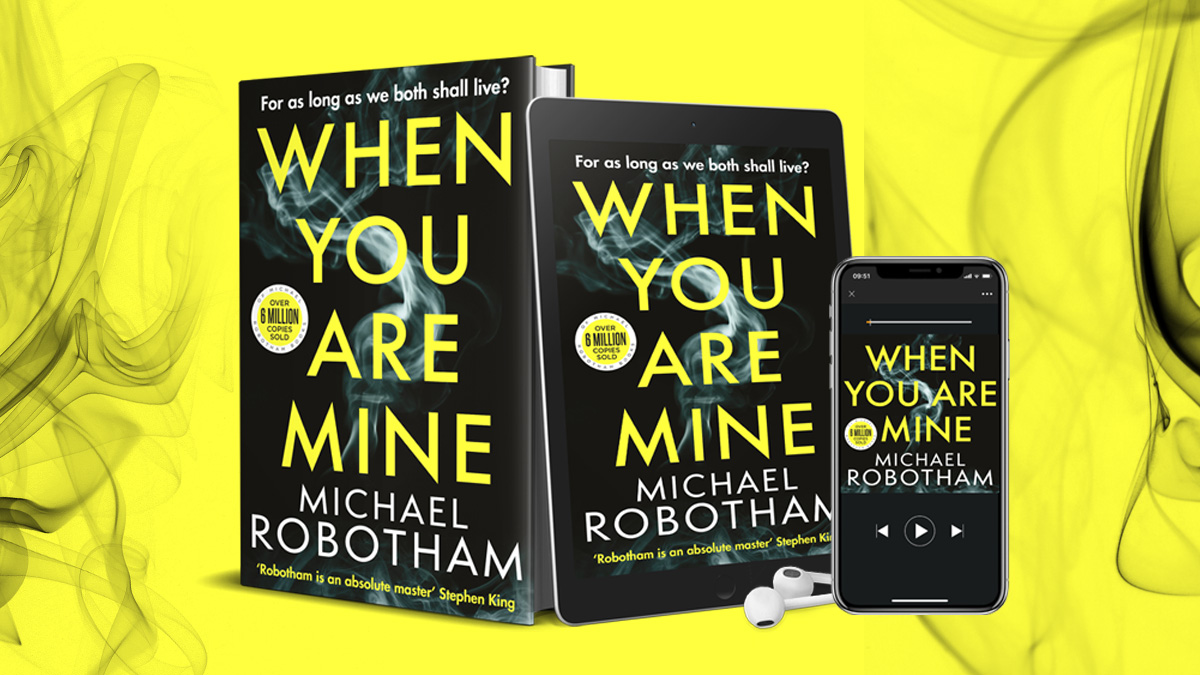 At some point I have started running again, skirting Clapham Common and following Abbeville Road towards Brixton. The dew-covered pavement is drying under my feet and salty tidal air fills my lungs. I know my destination, but I'm not sure what I'll say when I arrive.
A different woman answers the intercom at the house and remotely unlocks the front door. An older child is pushing a sibling on a tricycle in the entrance hall, knocking paint off the walls.
'I'm looking for Tempe Brown,' I say, as the woman appears from an office.
'She's gone.'
'When?'
'Yesterday.'
'Did something happen?'
'A policeman showed up and took her away.'
'Did he give you a name?'
'No. Tempe refused to leave at first, but he convinced her to go.'
'What did this officer look like?'
'Fortyish. Dark hair. Handsome, I guess.' The woman blinks nervously. 'Why?'
'He's the one who beat her up.'
Her mouth opens and closes several times before she finds the words, but I'm already moving, down the steps and along the pavement. I call Tempe's mobile number. It goes to her voicemail. The image in my dream flashes into my mind and I see Tempe hanging from the water pipe, her eyes accusing me. Picking up speed, I navigate my way towards Borough Market. I know this area. After university, I shared a house not far from the site of the old Marshalsea Prison, made famous by Charles Dickens, whose father was an inmate. If you're a reader or a nostalgic, London sweats history from its pores; every road, sewer, building, grave and open space tells a story.
I'm out of breath when I arrive at the building and press the intercom. Nobody answers. I try Mrs Gregg, the neighbour. I'm about to buzz again when she answers, sounding annoyed by the interruption.
'It's Constable McCarthy. We met a few days ago.'
'You're not in uniform,' she says, suspiciously.
I wave at the camera. 'My day off. Can you let me in please, ma'am?'
The door unlocks and I make my way upstairs. Mrs Gregg meets me before I reach Tempe's door.
'Have you seen her?'
'She came back yesterday, but I think she's gone again.'
'You saw her leave?'
'No, but I found her key under my door when I woke up this morning.'
'What about the man she was with?'
'I didn't see him until an hour ago. I heard him yelling into his phone and calling a plumber.'
'A plumber?'
'Yeah.'
'You talked to him?'
'Are you crazy! I wouldn't open my door.'
'Do you still have the key?'
Mrs Gregg disappears inside her apartment and returns a few minutes later holding the keys and an envelope.
'I found this in my mailbox yesterday. It's addressed to someone called Margaret Brown. Could that be her?'
'Yes.'
I study the envelope, which is postmarked from Northern Ireland, but has no information about the sender. It seems to have bounced between several addresses, chasing Tempe from place to place.
'Will you make sure she gets it?' says Mrs Gregg.
'I'll do my best,' I say, glancing at the keys. One has a fob that opens the main doors downstairs.
I move along the corridor and slide the key into the lock, nudging the door open.
'Hello? Is anyone home?'
I remember the layout of the flat. The lounge is directly ahead of me, linked to an open-plan kitchen and dining area. The two bedrooms are on the left with a bathroom in between.
Taking out my mobile, I call Tempe's number again. It begins ringing. My heart skips. The sound is coming from the nearest bedroom. I peer around the frame of the door. The queen-sized bed is covered in clothes and rumpled bedding. The floor-to-ceiling wardrobes are open and have been ransacked. Clothes are scattered on the floor, crumpled and trodden underfoot.
Again, I call Tempe's number. The screen lights up in the darkest corner of the room. Pushing aside shoes, I uncover the handset. There are twelve missed calls. Three are from me. The battery is almost dead.
At that same moment, I notice a spray pattern of dark droplets on the pale carpet. Blood. Dry to the touch. There are deeper stains closer to the bathroom. As I step into the doorway, I see a bloody handprint on the edge of the bathtub. Shuffling sideways, I steel myself for what might be coming. A hinged glass partition acts as a shower screen. I peer around the edge of the glass, expecting the worst.
---
From the multi-million-copy bestselling author of Richard & Judy Summer 2021 Pick When She Was Good, comes a gripping new standalone thriller

Philomena McCarthy has defied the odds and become a promising young officer with the Metropolitan Police despite being the daughter of a notorious London gangster. Called to the scene of a domestic assault, she rescues a young woman, Tempe Brown, the girlfriend of a decorated detective. The incident is hushed up, but Phil has unwittingly made a dangerous enemy with powerful friends.

Determined to protect each other, the two women strike up a tentative friendship. Tempe is thoughtful and sweet and makes herself indispensable to Phil, but sinister things keep happening and something isn't quite right about the stories Tempe tells. When a journalist with links to Phil's father and to the detective is found floating in the Thames, Phil doesn't know where to turn, who to blame or who she can trust.
__________

PRAISE FOR MICHAEL ROBOTHAM'S THRILLERS:

'An absolute master' Stephen King

'I love this guy's books' Lee Child

'He writes in a voice with a haunting sense of soul' Peter James

'Heart-stopping, heart-breaking and heart-wrenching' Val McDermid

'Robotham is the real deal' David Baldacci

'He invests suspense with such a strong emotional pull. No one else comes close' Linwood Barclay

'Will have you turning the pages compulsively' The Times