Desert Island Crime with Emily Elgar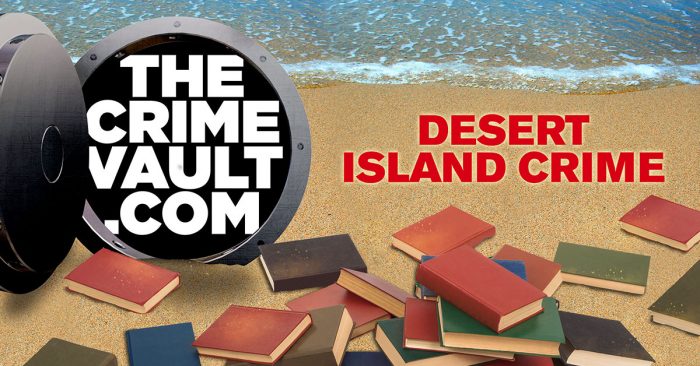 This week's Desert Island Crime comes from international bestselling author Emily Elgar. Have a read of the top 8 titles that she would take with her on a desert island, some perfect choices if you're in need of some recommendations.
1) We Have Always Lived in the Castle –Shirley Jackson – The Blackwood girls are the last surviving remnants of a grand old family, along with Uncle Julian, infirm in body and mind. The rest of the dynasty was wiped out when someone put arsenic in the sugar bowl and the family – apart from the two girls – as was their wont, sprinkled it on their dessert. This book is fixated with death but also full of life, and that's perhaps the perfect recipe for the making of the most unsettling stories.
2) Gone Girl – Gilian Flynn – This book needs no introduction – I still think about Flynn's brilliant description of the 'cool girl' frequently. A good reminder not to trust all the pretty things I might find on the island.
3) I'm Not Scared – Nicocolo Ammaniti – A boiling, brilliant thump of a book. Set in rural Italy during the heat wave of 1978 young Michele makes a horrifying discovery – when he returns home to tell his father, a stranger has arrived to stay with his family, the adults are having frequent, secret meetings. The reader discovers the appalling truth about Michele's discovery before he does but Ammaniti skilfully uses this to make the book even more electrifying. I defy you not to be gripped.
4) See What I Have Done – Sarah Schmidt – In the summer of 1892 the father and stepmother of Lizzie Borden were found hacked to death – Lizzie was acquitted of the murders – but was she innocent? A lurid and original debut full of creeping terror – will help me stay alert!
5) The Essex Serpent –Sarah Perry – I adored Perry's Victorian gothic tale from the very first page – she re-imagines a past world that somehow feels so relatable and relevant but is also magical and distant. I think Perry is without doubt one of our most accomplished living writers.
6) The Department of Speculation – Jenny Offhill – sneaking this one in as it's not strictly a mystery (although it is very mysterious…) this tiny, agile, unusual book is a rocket and will most likely be my rescue off the island.
7) The Dry – Jane Harper – Reading this book I could taste the Australian dust in my mouth and feel my lips blister in the relentless sun – visceral and relentless. I think it'll help me feel less alone trying to cope with the heat on the island.
8) Reservoir 13 – Jon McGregor – This is a story about a rural village, a missing girl but it is also much, much bigger than this archetype. An omniscient narrator moves easily around and inside a whole collection of protagonists in the village deftly revealing how the aftershocks of tragedy reverberate for years to come.
Emily Elgar's new book Grace is Gone is available now
A heart-stopping new psychological thriller from international bestseller, Emily Elgar, inspired by a shocking true-life story

'Grips to the very last page - a tense, twisted tale' T.M. Logan, bestselling author of THE HOLIDAY

'I was completely hooked' Heidi Perks, bestselling author of NOW YOU SEE HER

*****

Meg and her daughter Grace are the most beloved family in Ashford, the lynchpin that holds the community together.

So when Meg is found brutally murdered and her daughter missing, the town is rocked by the crime. Not least because Grace has been sick for years - and may only have days to live.

Who would murder a mother who sacrificed everything, and take a teenager away from the medication that could save her life? Everyone is searching for an answer, but sometimes the truth can kill you . . .

*****

Read what everyone is saying about Grace Is Gone:

'Addictive reading, definitely a page turner' Goodreads reviewer, five stars

'A genuine page-turner based on real events, and the twists keep coming . . . Would thoroughly recommend this to anyone who likes a good thriller and most of the important characters are women!! So a definite plus' NetGalley reviewer, five stars

'This book was a real hoot . . . There was a lot of joy discovering along the way all the ways the author subverts and flushes out the banality of real life. I was sad when it was over' NetGalley reviewer, five stars