Seven Book Club Questions for Seven Lies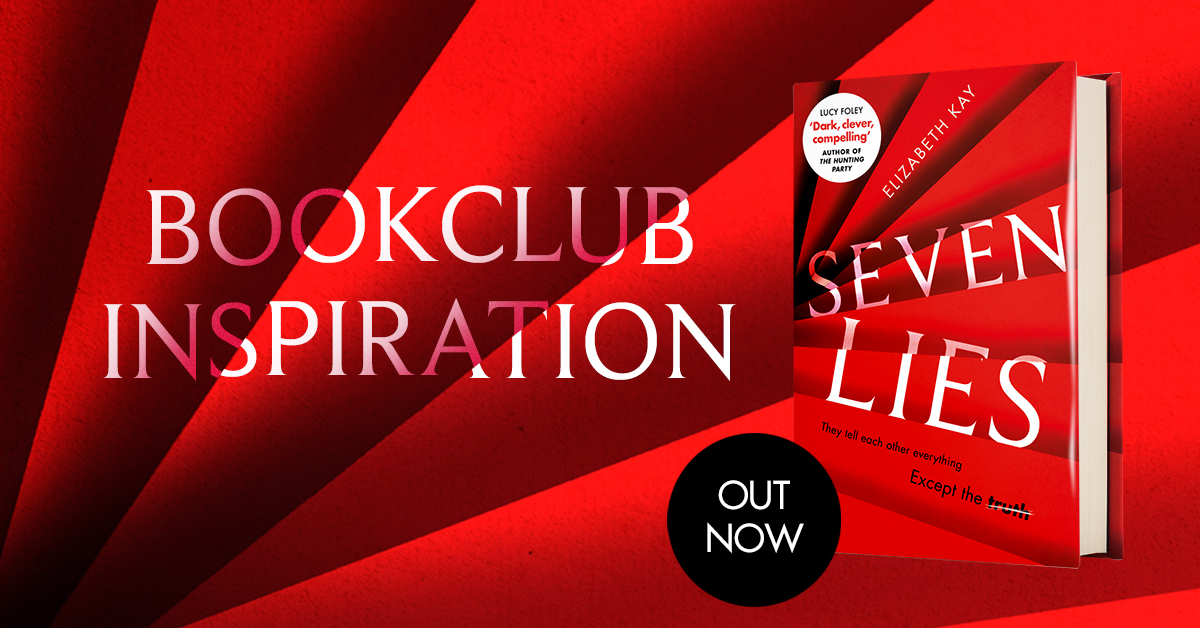 For all Book Club members, here's a special treat for you…
Here are Seven Questions on Seven Lies to kickstart your book group discussion.
1.
Jane's first lie about her real opinion of Charles is arguably the catalyst for the events of the novel. Would you have lied in that that situation? Should friends always be honest with each other no matter how difficult the truth might be to hear?
2.
At the start of Chapter 2 Jane states that this is her attempt to tell the truth.
To what extent do you feel that she is honest with the reader?
3.
In Chapter 6 Jane asserts that it's important the reader understand her relationship with her mother. What bearing do you think this relationship has on the rest of the novel?
4.
Did you find Jane a sympathetic narrator? How, if at all, did your opinion of her change
as the story progressed?
5.
Jane idolises Marnie. Do you think the reader is intended to share her view?
6.
How do the themes of power and control manifest themselves throughout the novel?
7.
In your opinion, which of the seven lies was the most understandable and which the least?
Seven Lies is out now in hardback, audio and ebook.
'A hugely exciting new voice in crime fiction' Lucy Foley

'The new face of domestic noir' Evening Standard

'One of the most compelling narrators I've ever encountered' Shari Lapena

'A protagonist to rival Villanelle' Cosmopolitan

___________________________________

HAVE YOU READ THE MOST EXPLOSIVE DEBUT THRILLER OF THE YEAR?

'Chilling and original' CLARE MACKINTOSH
'A tense nerve-shredder' VAL McDERMID
'The perfect pscyh thriller - smart, dark and morally ambiguous' TAMMY COHEN
'You NEED to read this one' LESLEY KARA
'Toxic friendships don't get more toxic than this' PRIMA
'Breathtakingly good' T.M. LOGAN
COSMOPOLITAN
'You won't want to put this one down' CARA HUNTER
'This is going to be the next massive thriller' PANDORA SYKES
'You'll be turning the pages deep into the night' HARLAN COBEN
'Shockingly intimate and scarily insidious' LISA GARDNER
'The new face of domestic noir' EVENING STANDARD
'Brilliantly twisty' MICHELLE FRANCES
'A clever, deliciously dark pageturner' ALICE FEENEY
'Takes the idea of the unreliable narrator and spins it on its head' ARAMINTA HALL
'Brilliantly plotted' ALI LAND
'You won't be able to put it down' CHRISTINA DALCHER

___________________________________

It all started with one little lie . . .

Jane and Marnie have been inseparable since they were eleven years old. They have a lot in common. In their early twenties they both fell in love and married handsome young men.

But Jane never liked Marnie's husband. He was always so loud and obnoxious, so much larger than life. Which is rather ironic now, of course.

Because if Jane had been honest - if she hadn't lied - then perhaps her best friend's husband might still be alive . . .

This is Jane's opportunity to tell the truth, the question is:
Do you believe her?